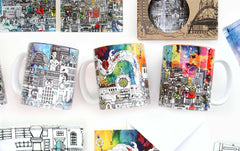 MehaArt turns 5 this year and to celebrate this big Birthday we're taking a look back over the past 5 years and how the business came to be where it is today.
2015
2015 saw Meha create the first of her now signature skyline designs, and of course she had to start off with Manchester! Featuring many of Manchester's most recognisable landmarks this design has constantly evolved over the last 5 years to include new buildings as they pop up.

Meha also introduced her Didsbury and Industrial Manchester skylines in the first year of MehaArt.
2016
In 2016, Meha took on her first mural commissions, including a large scale version of her Industrial Manchester design, at the Manchester Creative Studio.

October 2016 saw Meha take the leap to launching the MehaArt website, which remains largely unchanged to this day. You can see what the website looked like on the day it launched above!

2016 also saw Meha take part in the Manchester Christmas Markets for the first time, and as a result her Manchester Skyline mug featured in Manchester Confidential's Christmas Market Gift Guide.
2017
In 2017 Meha teamed up with Newcastle department store Fenwicks to create the Newcastle skyline range. The design is now available on mugs, aprons, tea towels, coasters, and more!

Meha's now super popular gin glasses first appeared in 2017 too, with the first design featuring buildings from Manchester's famous skyline including the Beetham Tower, Manchester Cathedral, and the National Football Museum.
2018
2018 proved to be a busy year for MehaArt starting with features in both Olive food magazine and Living North, and even sneaking onto Coronation Street where Meha's black and white Manchester Skyline print was spotted on the walls of the factory!

July 2018 saw Meha collaborate with paint manufacturer Airlite to produce an interactive skyline piece at TedEx London which highlighted their air purifying paints.

Also in July, Meha took part in the amazing Bee in the City trail, decorating one of the giant fibreglass bees with her colourful Manchester skyline design. The bees were ultimately auctioned off to raise money for the We Love MCR Charity's Stronger Communities fund with Meha's bee raising an incredible £10,000.

2018 also saw MehaArt go international with a feature in German food magazine, Essen und Trinken, who shared Meha's Berlin tea towel design.
2019
In April 2019 Meha took part in BBC One's 'Home is Where the Art Is', a show where artists create a personalised commission for a mystery buyer.

Meha created a collection of pieces for Manchester couple Ben and Marc designed to capture their love of the city and its heritage.

You can find all of the pieces Meha created for Home is Where the Art Is on the website here.

July 2019 saw Meha's MCR Hidden Stories murals get underway, a collaboration with NOMA and the Old Bank Residency, this was a project designed to capture the stories of Manchester which are often forgotten.

The MCR Hidden Stories mural is Meha's largest to date, covering over 40 boards which will be used around the NOMA neighbourhood.

October saw the launch of the Liverpool Art Book which features Meha's black and white Liverpool Skyline design. You can order the book online from Amazon here.

The first of Meha's skyline workshops launched in December 2019 at the annual Etsy Made Local: Manchester pop-up event at the People's History Museum. Guided by Meha, attendees created their own interpretation of the Manchester skyline using personal stories to guide their design.
2020
January 2020 started out with Meha's Manchester Skyline print Music Edition being selected for the first Manchester Open, an exhibition celebrating the creative talent of Greater Manchester residents.

In February of this year Meha sat on a panel at the Greater Manchester Chamber of Commerce's Business Women's Network Summit, where she discussed entrepreneurship and building a brand.
And that brings us right up to the present day!

We're excited to see what the rest of 2020 brings (after the chaos of Corona!!) and look forward to the next 5 years of MehaArt too.