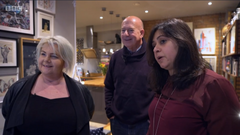 As many of you will have already seen, April saw Meha's first (and hopefully not last!) TV appearance, on the new BBC ONE show, Home Is Where the Art Is. Presented by TV favourite Nick Knowles, the programme sees three artists* tasked with creating a personalised commission for a mystery buyer. The only clues the artists are given are gained by snooping around the buyers home, prior to the pitch, in search of hints to their style, taste, and preferences.
Meha's episode saw her take on a brief from Ben and Marc, a Manchester couple who wanted a piece designed to fit in their new converted Cotton Mill apartment, which captured their love of Manchester and its heritage. To find out who won the commission you'll have to watch the episode, which is available on the BBC iPlayer
here
until the 24
th
May 2019, but first, read on for more about the two artists who competed with Meha, screen printer Robin Ross, and Papier-Mâché artist, Amanda Godden.
*For a full rundown of all of the artists who appeared in this series please see the list at the bottom of this blog.
Robin Ross - Screen Printer
The first artist featured alongside Meha was screen printer Robin Ross, from Blackpool. Robin specialises in Limited Edition hand pulled screen prints and is influenced by his passion for music. He first started designing whilst arranging gigs across Lancashire and decided to print the posters for the events himself.
Rock Factory Print Studio
and if you'd like to learn to screen print, Robin also offers two-day courses where you can learn the whole process for yourself.
Amanda Godden - Papier-Mâché Artist
The second artist featured was Papier-Mâché Artist Amanda Godden who lives and works in the Lake District. Amanda is known for her quirky Papier-Mâché sculptures which are designed around upcycled items found at local charity shops and car boot sales. Inspired by circuses, folklore, and fairytales, Amanda loves Papier-Mâché as the things you can create with it are limitless and the low-cost materials mean the craft is open to all. Her previous designs have included a carousel horse lamp, a mirror surrounded by flowers and Blue Tits, and a Hare lamp, created in the image of Horatio Nelson.
here.
Meha Hindocha - Illustrator
Meha is very much a researcher and loves to get into the details of a piece, exploring the musical, sporting, cultural, and architectural icons of a city. Her style is based around intricate line work paired with bold coloured backgrounds, designed to capture the story of a city or place.
For commissioned pieces, Meha really gets to know the buyer and their preferences, requesting images personal to them, their favourite colours, special locations, and any quirky, one-of-a-kind, references they'd like to see in their artwork. Depending on the scale of the piece, commissions can take from just a few weeks up to 6 months to create.
Commissioned artwork makes for a fantastic talking point in your home or as a personalised gift for weddings, Birthday's, and Anniversaries. If you'd love a piece of original art by Meha to hang in your home, get in touch with us today on
orders@mehaart.com
Home Is Where the Art Is - Artist Credits
Episode 1
Sally Toms - Ceramicist -
https://sallytoms.com/
Andy Burgess - Wood Sculptor -
http://andy-burgess.com/
Kate O'Brien - Mixed Media Painter -
https://kate-obrien-art.myshopify.com/
Episode 2
Teresa Wells - Figurative Sculptor - https://www.teresawells.co.uk/ Roger Davies - Painter & Illustrator -
https://rogerdaviesmusic.com/artwork/
Swarez - Abstract Artist -
https://www.swarez.co.uk/
Episode 3
Patricia Lee - Glass Artist -
https://allthatglass.co.uk/
Nick Coley - Glass & Metal Art -
https://www.nickcoleyglassandmetalart.com/
Jo Allsopp - Watercolour Artist -
http://www.sablestudiogallery.co.uk/
Episode 4
Charlotte Ashley - Textile Artist -
https://www.charlotteashleyart.co.uk/
Thuline de Cock - Painter -
http://www.thuline.com/
Andy Levy - Wood Sculptor -
https://www.facebook.com/andylevywoodsculptor/
Episode 5
Claire Bigger - Steel Sculptor -
https://www.clarebigger.com/
Karen McSkimming - Pet Portrait Artist -
http://www.artfulregards.co.uk/
Simon O'Rourke - Wood Sculptor -
https://www.treecarving.co.uk/
Episode 6
Christopher Townsend - Sculptor -
https://www.christophertownsend.co.uk/
Sarah Cross - Textile Artist -
https://sarahcrossart.weebly.com/
Adelle Gough - Painter -
https://www.greenbowtieworks.com/
Episode 7
Celia Burbush - Fine Artist -
http://www.celiaburbush.com/
Luciana Hermida - Mixed Media Artist & Graphic Designer -
https://www.lucianahermida.co.uk/
Will Rea - Illustrator -
http://willustration.co.uk/
Episode 8
Amy Coney - Oil Painter -
http://www.amyconey.com/
David O'Brien - Mosaic Maker -
https://twitter.com/BigSmallMosaics
Fanny Gough - Artist/Designer/Illustrator -
https://www.fannygogh.co.uk
Episode 9
Bee Weir - Glassworker -
http://www.craftsfromtheclink.com
Ben Melton - Resin Artist -
https://bmartstuff.com/
Andrea Hunter - Felt Artist -
http://www.focusonfelt.co.uk/
Episode 10
Mark Hamilton - Wood & Metal Sculptor -
http://www.smallhit.co.uk/
Maddy Howard - Mosaic Artist Karl Macauley - Wood Carver -
http://www.elegantchainsawcarvings.co.uk/
Episode 11
Deborah Moses - Glass Artist -
http://www.thesilverzebra.co.uk/fused-glass-home
Graham Thew - Watercolourist -
http://www.grahamthewart.uk/
Steve Blaylock - Metal Sculptor -
https://metalsculpture.co.uk/
Episode 12
Maisie Baker - Textile Artist -
https://www.facebook.com/maisiebakerdesigns/
Jane Austin - Painter -
http://www.janeaustin.co.uk/
Giles Davies - Collage Creator -
http://www.gilesdavieslandscapes.co.uk/
Episode 13
Amanda Godden - Papier-Mâché Artist -
https://www.facebook.com/AmandaGoddenFineArtist/
Robin Ross - Screenprinter -
http://www.rockfactoryprintstudio.co.uk
Meha Hindocha - Illustrator -
https://mehaart.com
Episode 14
Paul Dunkerley - Contemporary Sculptor -
https://pauldunx.com/
Lucie Ann Trickett - Abstract & Imppressionist Painter -
https://www.luciianngiftedart.com/
Charlotte Newson - Visual Artist -
https://www.charlottenewson.com/
Episode 15
Emma Wood - Fused Glass Artist -
http://emma-wood-glass.co.uk/
Jane Richmond - Artist & Ceramic Sculptor -
http://www.jane-richmond.com/
Andrew Vickers - Stone Carver -
https://stonefacecreative.com/