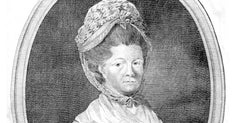 The Manchester's Hidden Stories series explores the forgotten history and icons of the city of Manchester. The project was sponsored by NOMA Manchester and involved Meha becoming the artist in residency at the Old Bank Residency throughout July 2019, working on her largest mural yet. The first story Meha discovered was that of Elizabeth Raffald (below), who is considered one of Manchester's first female entrepreneurs.
Arriving in Manchester in 1763, Elizabeth Raffald hit the ground running, and launched her first venture, a catering business, from her home. Not long after, in 1764, she opened a 'confectionary' store, what would now be considered a deli, on Fennel Street in the city, selling everything from sweets, soups, and meats, to table centrepieces. Whilst at Fennel Street, Elizabeth also started a staff employment service and a cookery school for young women. Moving her confectionary store to the Market Place, she began advertising the business in the local newspaper, listing, amongst other items, "Plumb cakes for weddings." This is considered one of the first references to what has now become the modern day Wedding cake. In 1769, Elizabeth published her first must-have cookbook, 'The Experienced English Housekeeper', which contained over 800 (!!) original recipes, including the first recipes for Piccalilli, crumpets, and an early version of the Eccles Cake. The book was so successful it was reprinted 13 times and even became a favourite of Queen Victoria who is said to have copied recipes from the book into her personal diary.
Between 1769 and 1772 Elizabeth's business streak continued with her running the Bull's Head Inn in the market place, starting a carriage rental business, establishing a post office, and helping to create Salfords first newspaper, Prescott's Journal. In 1772, Elizabeth created the first ever Manchester and Salford trade directory, essentially a yellow pages of its day. The directory was a great success and was updated in 1773 from 60 to 78 pages. Finally, in another publishing venture, Raffald co-wrote a midwifery manual with Manchester surgeon, Charles White. Unfortunately the manuscript was never printed in her name, seemingly sold off by her alcoholic husband following her death.
What makes Elizabeth's story all the more incredible is that whilst launching and running her businesses she also gave birth to at least 9 children! Elizabeth died in April of 1781 and is buried at St Mary's church, Stockport We're sure you'll agree that Elizabeth's story and entrepreneurial spirit is one which should be remembered and celebrated for years to come which is why it's been fantastic to be able to include her in the Manchester Hidden Stories mural. ______________________________________________________________________________ To stay up to date with the progress of the #MCRHiddenStories mural, be sure to follow Meha on Instagram
here
.