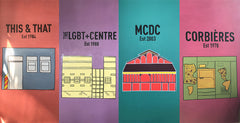 In this blog we delve into the history and stories behind some of Manchester's often forgotten buildings which Meha has depicted in the Manchester's Hidden Stories mural.

This & That Cafe
Tucked away on Soap Street,
This & That
is Manchester's no-frills, canteen style, Indian curry house. If you've never been before it may take you a minute to find it but once there, don't be fooled by the modest exterior as inside you'll find authentic, home-made curries and sundries bursting with flavour. Established in 1984,
This & That
is a family run business famous for its 'Rice and Three' combos where for a set price you take your pick of three curries from those on offer. Dishes change daily but you can expect to see a mix of meat, veggie, and vegan offerings with favourites such as Lamb Keema, Chicken Masala, and Daal on the menu. This & That is extremely popular so be prepared to wait a little, however with delicious Indian curries from as little as £4.50, it's definitely worth the wait.
Vimto
First concocted in 1908 by John Noel Nichols in a tiny terrace house on Granby Row in Manchester city centre,
Vimto
, or Vimtonic as it was called then, started out life as as a herbal tonic designed to give the drinker 'Vim & Vigour'. In fact, in 1912, Vimto was actually trademarked as a medicine! Enjoyed both hot and cold, the unique Vimto flavour is a special combination of fruits (grape, blackcurrant and raspberry), spices, and herbs which remain a secret to this day. As Vimto grew in popularity, Nichols began exporting the drink around the world, in particular to the Middle East where it was a huge hit in countries such as India and Burma (now Myanmar). Interestingly, to this day, Vimto cordial sent to the Middle East is double the strength of the UK version, to cut down on transport costs and suit the local palate more.
Vimto
is now sold in more than 85 countries and the distinct flavour can be found in all manner of treats, from ice lollies, to fruity snacks - and all from humble beginnings in Manchester!
The LGBT+ Centre
The
LGBT+ Centre
found at 49-51 Sidney Street was Europe's first entirely publicly funded, purpose built centre for the gay community, and first opened in 1988. It's important to note the significance of the timing, Section 28 had just become law, and so the decision by Manchester Council to fund a building built solely for the gay community was a huge step. Over the years the centre has faced numerous threats of closure due to funding cuts but has overcome these with the help of long-term staff and dedicated volunteers who recognise the need for a space committed to supporting the LGBT+ community. The centre is currently home to the Sidney Street Community Cafe, a number of social and support groups, and the Jaye Bloomfield resource library, as well as hosting many other events throughout the year. As of July 2019, the centre is undergoing a huge £2.25million transformation which will see the original building demolished and replaced with a new three-storey centre, ensuring its place as a safe place for LGBTQ+ people for years to come.
Manchester Craft & Design Centre
Situated in the heart of Manchester's Northern Quarter, the
Craft and Design Centre
is housed in a beautiful Victorian building which was once the city's Smithfield Fish Market. Following the development of the Arndale Shopping Centre, in 1978, it was decided that the fish market would become a craft village, housing craft-makers from potters and jewellers, to furniture makers, weavers, and more. Manchester Craft Village first opened in 1982 as an artists' cooperative before re-branding as Manchester Craft and Design Centre, and becoming a not-for-profit limited company, in 2003. These days you'll find the centre a hub of creative activity with two floors of contemporary craft studios, many incorporating small shops, where artists both work and sell their wares. On the ground floor you can even find two of the original fishmongers' booths, now home to the quaint Oak St. Cafe Bar, where you can enjoy fresh produce from local growers, as well as vegetarian, vegan, and wheat free options. Open 6 days a week, the centre regularly hosts exhibitions, public workshops, and other events. If you're after beautiful gifts to remember Manchester by or looking to explore the cities bustling creative side,
MCDC
should definitely be your first port of call!
Corbières Wine Cavern
One of Manchester's best kept secrets,
Corbières
is a quaint basement wine bar hidden-away just off St Ann's Square on Half Moon Street. Named after a wine producing area of the French Pyrenees, the bar first opened as a Bistro but is now known more for its local Salford ales and collection of French wines. Long before the Hacienda came to be associated with the Manchester music scene,
Corbières
was a hot spot for local musicians including the band who would become Inspiral Carpets. It's even rumoured that the Happy Monday's first met Bez here! The musical history of the cavern remains to this day with one of Manchester's greatest retro jukeboxes taking pride of place down the winding staircase. Meha's depiction of the cavern focuses on the exterior, highlighting the recognisable mosaic tiling which adorns the entry way, luring you in to the subterranean cavern below. ______________________________________________________________________________ To stay up to date with the progress of the #MCRHiddenStories mural, be sure to follow Meha on Instagram
here
.