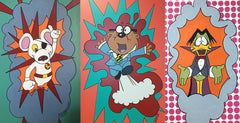 If you grew up in the seventies and eighties, you'll most definitely have heard of some of Cosgrove Hall Films most famous creations, if not the studio itself. Do Danger Mouse and Count Duckula ring a bell? What about The Wind in the Willows? Founded in 1976, Cosgrove Hall Films was the brainchild of Brian Cosgrove and Mark Hall. Having first met whilst studying at the Manchester Regional College of Art & Design (now known as Manchester Metropolitan University), the pair started their first independent company together in 1971, Stop Frame Animations, which specialised in short films, commercials, and series including
Noddy (1974)
. The company also created opening sequences for a number of children's TV shows including the titles for the hit series
Rainbow
in 1972. Craving more creative freedom, Cosgrove and Hall closed Stop Frame in 1975 and established Cosgrove Hall Films in January 1976. Making their home in a converted tobacco and confectionery warehouse on Albany Road in Chorlton-Cum-Hardy, the business would go on to become, at the time, one of Europe's largest animation studios.
Running for 161 episodes, Danger Mouse, voiced by David Jason, was Cosgrove Hall's biggest success, entertaining over 24 million viewers. The series followed the 'World's Greatest Secret Agent' as he, and his rather useless sidekick Penfold, took on a variety of baddies including evil Baron Silas Greenback. Another regular character to appear in Danger Mouse was Count Duckula, a vegetarian vampire who aspired to become rich and famous, who was given his own spin-off series which also grew to become one of the studios most successful programmes airing in the United States on Nickelodeon through the late eighties.
In 1989, the studio produced its first feature length film, an animation of Roald Dahl's classic book The BFG. The film included an 'Easter Egg', with a poster for their hit show Danger Mouse appearing in the background on a young boys bedroom wall. The studio also collaborated with best-selling author Terry Pratchett, producing two series for Channel 4 based on two of Pratchett's Discworld novels, Wyrd Sisters, and Soul Music (1997). Continuing their work in children's television, Cosgrove Hall produced series such as Bill and Ben, Andy Pandy, and in the mid 00's developed a new version of Postman Pat. Cosgrove Hall Films closed in 2009 as a result of ITV Granada deciding the company was no longer financially viable.
The original home of Cosgrove Hall, on Albany Road, is now a block of residential flats named Cosgrove Hall Court and features a plaque in tribute to the studios most well known productions including Danger Mouse, The Pied Piper of Hamlin, and The BFG. Meha's Manchester's Hidden Stories tribute to Cosgrove Hall Films takes on a Pop Art style, full of vibrant colour and bold shapes, to represent the fun and lively nature of kids TV. ______________________________________________________________________________ To stay up to date with the progress of the #MCRHiddenStories mural, be sure to follow Meha on Instagram
here
.