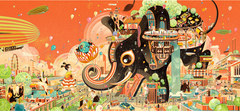 Celebrated for well over a century on the 8th March each year, International Women's Day (or IWD) is a day focussed on celebrating the achievements of women around the world. IWD also provides a platform to reflect on the inequality women experience, to call for change, and to raise awareness of bias against women.
To celebrate this year's International Women's Day I'm sharing just three of my favourite female artists with you.
Emily Lamb describes herself as a 'Painter and traveller connecting people to the wilderness …'. Her work focuses on the natural world, with bold, expressive depictions of wildlife intended to draw attention to the plights of endangered species and communities in Africa.
In 2019, Emily was the first artist in residence at Angama Mara, a stunning safari lodge above the Maasai Mara game reserve in Kenya. Whilst there she painted 17 pieces which were raised $12,000 for the Angama Foundation in just 10 days.
Emily describes her style as an attempt to "translate the places, people and creatures of Africa into a medium that can communicate the beauty and emotion that the continent evokes..".
One of her most recent projects is the Daily Sketch for Wildlife series where she created a sketch a day for 400 days, selling the pieces for £100 each with 100% of the proceeds going to wildlife charities. You can see the full range of sketches on her Instagram here.
Victo Ngai is an LA based illustrator originally from Hong Kong whose work is inspired by comic book drawings, Japanese painters, and classic children's book illustrations. Ngai creates her pieces using pen for the line work, various mediums to create textures, such as acrylic or oil pastels, before finally using Photoshop to digitally colour the artwork.
Her illustrations combine intricate, highly detailed line work with skewed perspective and limited colour palettes to create pieces which take the viewer to a place of fantasy.
Ngai's work can be seen in newspapers and magazines, on packaging and advertisements, in books, and as storyboards for animations. Her clients have including The New York Times, Penguin Random House, Dreamworks, and Apple.
Ngai has also taught at the New York School of Visual Arts, The Illustration Academy, and gives guest lectures at universities and art schools around the world. Her most recent achievement saw her awarded the Hamilton King Award, for excellence in illustration, by the Society of Illustrators.
Caledonia Curry, better known in the art world as Swoon, is a Brooklyn based street artist who specialises in large scale paper cut-outs of human figures. She began using the name Swoon when her then-boyfriend had a dream about the two of them doing graffiti together where she tagged her work with the pseudonym.
Interestingly, using the genderless nickname resulted in people expecting Swoon to be a man, a not unexpected assumption in the male dominated world of street art. Caledonia now sees 'Swoon' as more of a concept, embodying her belief that the combination of dedication and creativity can create "cracks in the facades of impossibility and inevitability".
Caledonia's process involves creating her signature large human forms on recycled papers, which can take weeks to paint and cut, before glueing them to derelict buildings, street signs, and other blank walls using wheat paste.
Her work is inspired by fairy tales, myths, and sacred femininity, as well as a desire to create portraits which capture the essence of a person or community.
What started out as a two month project of portraits has now seen Swoon continue her work for over 10 years, with pieces appearing in the São Paulo Museum of Art, the Tate Modern, and New York's Museum of Modern Art amongst others. Her most recent practice has seen her exploring more visual storytelling through the use of film animation.
There are so many more fantastic female artists who I could have featured in this post, these are just three of the incredible artists who inspire me to keep creating.