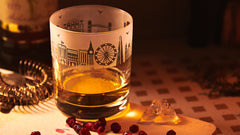 With Father's Day fast approaching on Sunday (June 16th), we thought we'd put together a collection of Whiskey recipes that you can pair with our
Skyline Tumblers
to guarantee you'll be in Dad's good books!
First up we have the Sweet Manhattan, a classic cocktail that combines bourbon whiskey with botanical vermouth for a moreish cocktail with sweet cherry undertones. This is a great choice if your Dad is a fan of fruity drinks.
Top Tip:
Try swapping out the Angostura Bitters for Cherry or Orange for a subtle change in flavour. For the full recipe, head to
BBC Good Food.
Add a little soda and ice to bourbon and lemon juice and you've got yourself a John Collins. This refreshingly simple cocktail gets its name from the 'Collins' glass it is served in, with 'John' being the name given to drinks which use Whiskey as their base. If you're not too sure what sort of drinks your Dad prefers, you can't go wrong with a John Collins! Head to
Spruce Eats
for a full John Collins recipe.
The Mint Julep is an iconic whiskey cocktail created by mixing a long shot of premium bourbon with mint, sugar, and crushed ice. The traditional drink of the Kentucky Derby, approximately 80,000 (!!) Mint Julep's are drunk each year at the annual horse racing event in Louisville, Kentucky.
Top Tip:
Once you've mixed your drink, keep the shaker in the fridge for a while before adding the ice to help the mint flavours infuse into the bourbon. To find out how to make the perfect Mint Julep, visit
Difford's Guide here
.
If your Dad's more of a scotch drinker then the Blood & Sand should be your go-to cocktail. Named after the bullfighter movie of the same name, the Blood & Sand is made up of smooth scotch whiskey, paired with cherry liqueur, which represents the blood, and orange juice, which represents the sand.
Top Tip:
For a perfect Blood & Sand, use freshly squeezed orange juice and a smooth scotch. For a full Blood & Sand recipe, check out Liqour.com
here.
We couldn't put together a Whiskey cocktails list without including the Old Fashioned! If you're new to mixing drinks, this aromatic classic is the perfect place to start as it only uses four ingredients; whiskey, sugar, bitters, and water. A favourite of Mad Men's Don Draper, this spicy and sweet beverage is effortlessly cool and never goes out of style.
Mix up an Old Fashioned for Father's Day with
this recipe
from Esquire. ______________________________________________________________________________ So, grab yourself a bottle of Whiskey, choose your Dad's favourite city from our Skyline Tumblers, pick a recipe from above and you've got Father's Day nailed. Don't forget, our last order date for guaranteed Father's Day delivery is Wednesday 12th June!