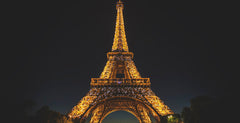 Mention that you're thinking of going on a romantic getaway and the first place that comes to mind is Paris, but why exactly is this popular destination known as the City of Love? Read on to find out...
The Architecture
Of course the most romantic part of Paris has to be the magnificent Tour de Eiffel, with it's grand wrought iron tower and sparkling lights illuminating the night sky. This famous landmark is a popular proposal spot with an impressive one in 679 proposals taking place there.
As well as the Eiffel Tower, the streets of Paris are lined with more examples of architecture such as the stunning Notre Dame Cathedral, the iconic Arc de Triomphe, and the gothic Sainte-Chapelle, all adding to the romance of the city.
The City of Lights
Another of Paris' nicknames is the City of Light and you can see why when the sun sets and the illuminated buildings and bridges come to life. The twinkling lights of more than 296 statues, monuments, churches, and hotels create the perfect atmosphere for a romantic stroll along the river Seine.
Fun Fact: The name actually comes from Paris being one of the first cities in Europe to have street lighting, the result of Louis XIV and the Lieutenant General of Police, Gabriel Nicolas de la Reynie, wanting to gain trust from the public by creating safer streets in the capital.
The Language & Culture
Originating from Latin, French is considered one of the most romantic languages in the world and is often dubbed "the language of love". One of the reasons for this is that French requires you to drop the consonant at the end of a word, removing the harsher sound and creating a smoother, more free flowing language.
Paris has also long been associated with extravagance, from the afore mentioned architecture, to fine art, music, and fashion. Visiting the city's many world-renowned museums, art galleries, and fashion houses is a must, and makes for a picture perfect romantic date.
Fun Fact: According to a survey by Google Translate, French is the language most often used to translate romantic expressions.
The Food
If the way to the heart is truly through the stomach then Paris, and it's 40,000 restaurants, must guarantee true love. For the French, enjoying good food is a way of life, encouraging people to come together and 'enjoy the art of good eating and drinking'.
With elegant fine dining and cosy cafe's on every street corner, Paris is the perfect place to spend a romantic evening indulging in gastronomic delights and fine wines.
Fun Fact: In France, people eat an estimated 500,000,000 snails per year.
Looking for a gift to remember the City of Romance? You can see our Paris Skyline gin glass here and our Paris glass tumbler here.