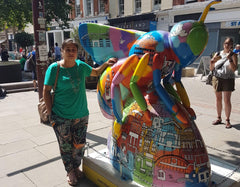 If you're Manchester based, you might have noticed there's been a bit of an outbreak. A swarm of giant Bees have landed on the streets of the city…and they're here to stay for the summer!
Wild in Art and Manchester City Council have joined forces on #BeeintheCity – a project which promises to celebrate the city's great wealth of creative talent with over 100 winged designs, on display now until 23 September. My design was kindly sponsored by
Henry Boot PLC
- one of the most progressive companies of its kind within the UK. Established over 130 years ago, the company operates nationally in property development and investment, land promotion, construction and plant hire. They create spaces that not only impress but that also stand the test of time. I've already been on a bit of a journey with this project from the very early stages of pitching my idea and my design being selected, to taking on the huge sculpture…which took around 6.5 days to finish – and quite a few late shifts! My colourful, illustrative bee takes inspiration from Manchester's ever-changing skyline. It tells a story about the bustling city and the worker 'bees' that have shaped it. I don't want to spoil it for those yet to see it but you can expect a flavour of my original
Manchester cityscape
with lots of surprises along the way. This design includes all three of the city's universities alongside familiar greats like the Central Library and the Town Hall and Danger Mouse. Yes, Danger Mouse! I wanted to celebrate even more greats born from the city with this drawing and that included Brian Cosgrove and Mark Hall from Cosgrove Hall Films, the British animation studio who created the famous rodent! Right, I've said enough, I promise there's lots more to see and find on the surface of my bee but for now I'll leave it for you to discover.
Watch this space for detailed annotations of my design - so you can check whether or not you spotted everything hidden in my doodle lines!
As I write this, the bees have only just settled into their new homes and I've already seen so many great shots of my bee in situ in
St Ann's Square
(please do tag us in yours and use #skylinebee on social!). I'm loving hearing about all the different things people are spotting in my drawing. I wanted people to be able to spend time looking at my bee (maybe over several days or weeks) and spot something new every now and again that makes them smile.
To take on finding the 101 Manchester bees, download the trail map here.
Discover my Manchester inspired range of gifts and homeware here.