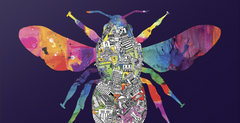 Following the 2017 attack on the Manchester Arena, the Manchester bee symbol has come to represent the defiant spirit and unity of the city but did you know this best-known symbol of Manchester has been around for much longer? The worker bee icon first became associated with Manchester during the 18th and 19th centuries, during the period more commonly known as the Industrial Revolution. The bee represents the city being a hive of activity, with the workers of textile mills and factories being referred to as 'busy bees', a reflection on their hard work ethic and ability to work together.
Officially introduced to the city's coat of arms in 1802, you can now find the bee icon all over the city, from adorning bins and plant pots to the clock face of the Palace Hotel. As a result of the bee becoming a symbol of solidarity following the Manchester Arena attack, there was also a huge movement of people who had the Manchester icon permanently tattooed on their skin as a reminder of the cities unity. Whilst the events of May 22nd were horrific, the public's response showed the world the true spirit of Manchester, with people from all walks of life coming together to support those involved in the attack. Taxi Drivers gathered around the arena to take victims to local hospitals, Sikh temples gave out food, and many Mancunians offered refuge in their own homes to those left stranded. It was a striking display of resilience and a community brought together through tragedy. In the wake of the attack, the
We Love Manchester Emergency Fund
was set up to help the bereaved families and those injured or traumatised by the event, and over the following months an incredible £21.5 Million was raised by people around the world wanting to show their support. Another recent display of the Bee symbol was the
Bee in the City
trail which saw a huge colony of 101 giant bee sculptures take over the streets of Manchester. Meha was delighted to be involved, creating a bee featuring a colourful depiction of the ever-changing Manchester skyline and sponsored by
Henry Boot PLC
.
77 of the Bee's were auctioned off in aid of the We Love MCR Charity raising an amazing £1.1 Million, with Meha's Bee being purchased by a private collector for an impressive £10,000!! With the bee's popularity continuing to rise, Meha has had many requests to replicate her colourful
worker bee
design as murals, with her most recent piece brightening up the office space at Ashfield Healthcare alongside a larger piece depicting the
Manchester skyline
.
The Manchester Bee's representation of hard work make it the perfect icon to adorn the walls of office spaces across the city, whilst bringing a splash of colour too! If you fancy brightening up your space with a hand drawn Meha mural get in touch with us today by emailing orders@mehaart.com.