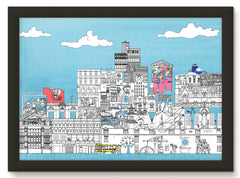 As part of the Wild in Art 50 Windows of Creativity, Meha recently created three pieces to celebrate Greater Manchester in all its glory.

About the exhibition
Created by Wild in Art and supported by Manchester City Council, 50 Windows of Creativity is an exhibition displaying art - whether that's ceramics or crafts, mosaics or murals - in windows and spaces around the city. Like Meha, each artist is connected to Greater Manchester. The art trail will help to support the city's art and creative community, its businesses and cultural venues at a time when they need it the most.

A selection of the pieces will also be auctioned, with proceeds going to their artists and makers as well as The Lord Mayor of Manchester Charity Appeal Trust - We Love MCR Charity.

Pieces are on display until 5th December as part of the exhibition. 

About Meha's pieces
Each of Meha's pieces are kindly sponsored by TFGM, with various nods to transport included in the drawings. Meha's pieces can also be purchased here, on our website, either individually or as a set of three. 
Northern Quarter and Ancoats
Discover the Northern Quarter and Ancoats' past and present with this skyline piece. Known as the "the world's first industrial suburb", Meha pays homage to Ancoats' industrial past with its cotton mills. Manchester's Cottonopolis is now home to some of the city's best eateries and independents with a backdrop of the colourful murals of Pichi & Avo and Dale Grimshaw. Available to buy from £20.

Canal Street
With recognition to Alan Turing to Emmeline Pankhurst alongside The Whitworth, Manchester Town Hall and the Manchester Museum, the skyline of Canal Street demonstrates the history and heritage the city has to offer. But let's not forget the tribute to the city's food either with the inclusion of the Vimto bottle and Hatch, the destination for independent eateries, breweries and retailers. Available to buy from £20.
Spinningfields & Deansgate
Standing tall in the centre, the eye is immediately drawn to Meha's drawing of Manchester Cathedral. But spot the cultural venues included too, from the likes of The Portico Library, the Opera House and Royal Exchange. With its rich history, the addition of Chetham's Library, the meeting place of Karl Marx and Friedrich Engels in 1845, is also a must. More modern features include the Tower of Light, Printworks and of course, arguably the nation's favourite soap opera, Coronation Street. Available to buy from £20.
To find out more about 50 Windows of Creativity, click here.