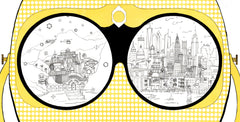 The first drawing in this series:
Manchester Events
This artwork began by exploring venues, events and things to do in Manchester. It was created for 'Go See This', as a competition entry to be printed on flyers advertising the city's offerings. It inspired me to discover the goings on of the city, beginning with very touristy attractions such as museums and the opera house, and eventually digging deeper. I wanted to finnd out what mattered to people in the city, what excited them and attracted their attention. Whilst many of the citizens of Manchester have chosen to move to the city, many more were born here and have grown up with it, and yet it's a place which is always changing, relentless in it's ability to reinvent itself.
Further Development:
Looking Through Binoculars
This piece was created for a friend. It explores two great, well- known cities in the USA, Vegas and New York, seen as if through the binoculars on top of the Empire State building. The intricate black and white illustrations are now a part of my much-loved artistic style, and have been transformed from this original piece
to create her New York and Vegas artworks. Touristy hotspots have been cleverly intertwined with more off-the-beaten-track elements, with odes to the architectural beauty of each city.